clear filter
Welcome to the news pages of TCRM.
If you're based in Pontypridd or Pontville and are interested in Web Design we like to keep you informed as to what is happening in the microcosm that is TCRM. We offer Web Design services to the world and yes that does include Pontypridd and Pontville. For website design that screams quality
contact
TCRM.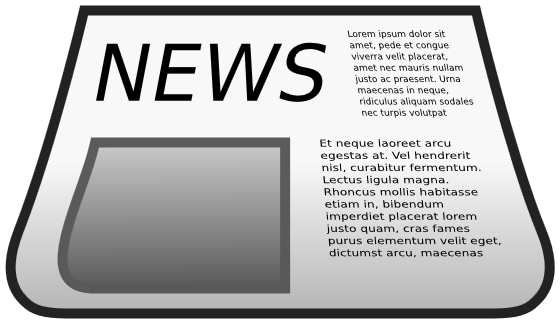 Number of News Items in your selection is 9. Please click on title to view detail: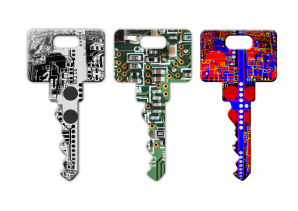 Google Chrome and SSL
The big news this month (forgetting Brexit, Diana, North Korea and Trump) is the decision of google to start flagging insecure connections within their Chrome browser.In essence this means if your site has no ssl certificate Chrome (and no doubt all other browsers in time) will tell your customers that your site has security issues.
We in TCRM have already informed our customer base of this change and we offer an ssl encryption option at a very competitive price, if you think you need this facility and we think you will please contact us ASAP.
If you want to read more detail on this subject here are a few articles that will help.
http://money.cnn.com/2016/09/08/technology/google-chrome-flag-non-secure-sites/index.html

https://arstechnica.co.uk/information-technology/2017/01/firefox-chrome-start-calling-http-connections-insecure/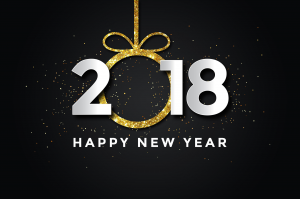 News December 2017
The end of 2017, what a year. I did hope I would wake up like Bobby in Dallas and it was all a dream but no, Grenfell Tower, Trump, North Korea and the other one which cannot be mentioned were all true! I hope 2018 will mend some of the troubles in our world. I do not mind being at work for a few days between Christmas and the New Year. Hardly anyone around, clients mostly don't need us, it's dead quiet and I get a chance to catch up on all my admin and start the new year without a backlog. I can work a few hours and then go and enjoy some family time There can be a few disturbances, the phone ringing with a customer who has lost access to his email and yes a few minutes later we have sorted his problem out. Customer service when you appreciated is very easy and bringing a smile during the Christmas period always make you feel better.
I started this News with an idea of a list of items why TCRM sites are better that the competition, it's funny that when you look at websites most people will thing the better they look the better they will perform, but the odd thing is this:
Design is an opinion, quite often the design our customer chooses may not be the design that we would choose but it is just an opinion, so is it that important? Well yes, in that it has to be professional, based on good design principles but design a) over design b) is often a simple choice
"Google" is a computer program with over 400 measures, not one of them is the design good as how could "Google" know, it is a computer program.
This brings us to a conclusion, the design has to be "Good" but two good designs will be as good as each other.
Let me list a few things outside design that will affect how google sees your web site


Load Speed
Semantic Markup
CSS3 Compliance
XHTML 1.1 Standards
DNS Prefetch
Graphics Compression
Defer and asynch script loading
Above the fold load speed.

We could go on but you get the idea, what is really important in web sites if often under the hood, and yes we are experts in under the hood stuff.

Sorry to add a boring bit at the bottom but it is important to you and your sites.

Have a great New Year and of course a prosperous 2018.

TCRM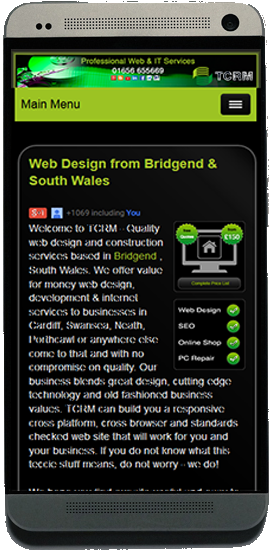 News June 2015
We are sure everyone is being inundated with sales calls, stating the world is ending if your web site is not mobile/tablet friendly and if you give them loads of money they will fix it.
However, there are a few things to think about before acting. Just for a change we'll look at some of the reasons not to change.
Your web site may already pass most of the tests google like. If you don't know, ask us and we'll check for you.
If your demographic does not use mobile/smartphones is there a need? We have one or two customers that this may apply to.
If you are thinking of an upgrade/redesign of your site, why not roll it all up together?
You do not like making money that much and you have far too much business anyway.
Ok, we are being a little tongue in cheek but they are a few reasons why not to upgrade. If anyone but google had the formula that google uses to position your site they would be as rich as google itself, so on the whole these phone calls are plain marketing calls trying to panic you into spending money but they are not necessarily wrong.
However, let us look at the other side of the coin!
There are many reasons for having a mobile/tablet friendly site and let us look at them and see if it affects your business:
1.    Mobile/ Tablet usage is going through the roof, well over 50% of browsing now happens on mobile devices, so many of your customers might not be seeing your products well presented.
2.    Positive user experience on your web site is essential, if your site is not mobile friendly it is like having a shop with the lights off for over half your customers, clearly a very bad business decision.
3.    Responsive design  (which is the most popular way of achieving mobile/tablet friendly web sites) has SEO advantages, so your google position can be affected by how good your mobile setup is. How much it affects your site is not well known but it certainly does have an effect.
4.    You could use your new mobile friendly site in you advertising, run a promotion saying your site is now mobile friendly, this will stimulate traffic which is what you want!
Web sites age, if your web site is more than a few years old it may very well need a refresh so what are you waiting for. Give us a ring and let's talk.
Have a great month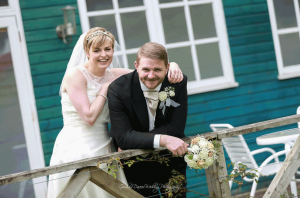 News May 2015
I am going to go for a totally personal start to our news this month, this is because we celebrated (my wife and many family and friends) the marriage of our eldest son Paul, to his beautiful bride Samantha. Everyone had a fantastic day and the happy couple are now on honeymoon cruising around the med.
So, what has this got to do with the TCRM and business I hear you ask, easy, have you seen how much weddings cost! Please can you all immediately spend thousands on upgrading your web sites as currently our diet consist mainly of gruel and water and I have had to give up drinking. Sorry, only joking! I had to give up drinking because of the diet.
I must give a namecheck to a few of the companies that helped make the wedding day so fabulous, they all gave their best, thanks.
So my personal thanks to:
Castell Coch: Wedding venue -
http://cadw.gov.wales/daysout/castell-coch/?lang=en
Graham Davies: Photography -
http://www.grahamdaviesphotography.co.uk/
Coed-Y-Mwstwr Hotel: Wedding breakfast venue -
http://www.coed-y-mwstwr.com/
Singleton Cars: Transport -
http://www.singletonslimos.com/
I have started crying again so a rapid change of subject!
I wanted to flag something up, if you have a great idea for an online business but the setup costs are high please come and talk to us. We are really keen to see local business succeed and if we can help by spreading the costs out or coming to some form of deal to get the idea off the ground we really want to hear from you. At least you can get an impartial view on the idea to see if it has commercial possibilities.
So that is it for the month lots of great projects underway so busy busy busy, have a great May.
TCRM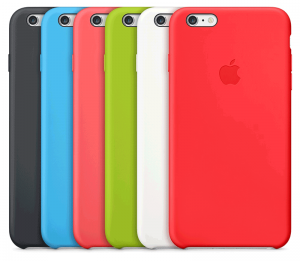 News April 2015
I hope the News has not affected you too much, I am at a loss as to how they will continue without that key element in the mix.
Am I talking about Jeremy and Top gear, no.
Am I talking about Janice Atkinson and UKIP, no.
Am I talking about Afzal Amin and the Conservatives, no.
No it is far more important than this collection of minor trivia, no, it is Zayn has decided to quit One Direction because he wants a quiet life. If the world wants to buy music from this "Modern Beat Combo" who are we to criticise but is it really important enough to feature on the News, I am sure the people who care do not listen to the news anyway!
Another ground breaking piece of news that seems to have drifted by today  is Apple's announcement of their latest generation handset, strangely called the "BirNisan", which apparently is the name of the developers dog.
We really think Apple have lost the plot on this one. As you may be aware the latest Iphone already has sensors built in that can detect your blood pressure, heart rate and body temperature, well it does not take much programming to work out your mood from this data.
The system then responds in a few ways (all configurable). The case changes colour, modifies your Itunes playlists and if you buy Apple's latest add-on it will release a perfume. All these done automatically based on you mood. We are not sure what sort of smell it will release if you need the toilet but I am sure Apple have a suitable fragrance.
Anyway I digress, little time for writing lots of news today as these web sites will not write themselves so we will cut it short there, have a great month.
TCRM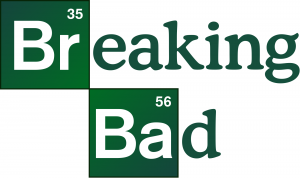 News March 2015
TCRM web sites are designed to be fast, efficient, easy to manage and add great value to your business.
We pride ourselves in producing a product that is better value for money than anyone in the area. This is a big ask as we are trying to sell features on our site that mostly you cannot see, but have to rely on for great results. A very high percentage of our customers are delighted or at the very least perfectly content (some people simply don't get excited by web sites!) with their web sites but occasionally we do come across the odd customer that believes their web site is not working for them. This is very bad news for the customer but even worse news for us. We want, sorry need, all our customers to succeed and a great web site is key to this, after all if they do not succeed neither do we. So if your web site is not working for you, what is your first action? That is an easy question to answer  – tell us ASAP.
Most of our customers do not use our added SEO facilities but if your web site is not working, you need us to take a look at the SEO and check it is hitting the correct buttons for your customer base. We have state of the art tools and we might not be able to solve the problem because you have huge competition but certainly the first phase is to find out what the problem is. So if you have fewer enquiries than you expect from the web sites get in contact and let us take a look. If we can spot any obvious problems there will be no charge and any additional effort we make is at our very reasonable rates.
If your web site is broken (does not work for you) this is bad, here is a stolen logo to remind you.
Have a great month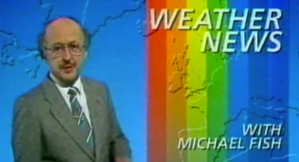 News February 2015
Really chilly today, long johns are on standby (Too much detail Ed.) Unusually all the weather forecasts seem to agree, this probably does not mean a lot if anyone remembers the "Michael Fish" incident.
On the business front it seems quite a lot warmer. The New Year has started at a brisk pace, we always expect a slow January but not this year, in fact this may be one of our busiest January's ever. However, if you are in need of an upgrade or you have a new idea get in touch, don't forget TCRM offer free quotes.
Good news for those with an eye for a bargain, we have changed our pricing policy (For the better Ed.). We are now offering all our web sites with the following features included at normal rates:
Responsive design and build, Cross browser checking to n-1 versions across 99.9% of browsers in use. Alternative Page Naming.
Of course our sites still include:
XHTML 1.1 Compliancy, CSS3? compliant design files, Content Text, Link and Image management (CMS).
We could go on about semantic markup and numerous other technical advantages on our sites but I am sure many people have lost the will to live.
Editors Note: If you have no idea what the previous paragraph means, no problem, we know exactly what it means and it is all good!
On to a subject that rears its head quite often. Do you have a loyalty to a designer but are not happy with the management of your web site? TCRM are able to work with any designer and take their creative ideas and bring them to life on the web. Most established businesses usually work with one design company and have done for years but what if your design company has problems making the site a reality. Don't let this become a barrier to keeping your site up to date. Call us to see how we can help.
So, on to February, hope you all have a successful and profitable month.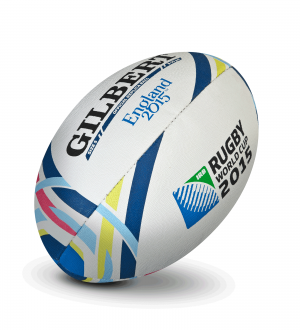 News January 2015
For rather obvious reasons I've been thinking about new year, a time of change. We have an exciting year ahead of us in the UK, will the general election see an end to the seldom lauded coalition? Will UKIP triumph and win more seats than the two already earned? And perhaps, most importantly, will Wales finally succeed in their dreams of World Cup glory hosted on home turf? This is going to be a dramatic year for our small isle and as I look out from the year's dawn I wonder how we will look back in 12 months time, a lot can change in a year.
They say change is good and what better time to think about updating your website for the coming year? I've repeatedly talked, despite repeated requests for me to shut up,  about the benefits of having a website that is optimised for mobile and tablet viewing. Now is the time to get it done! These days if you can't browse a website while in the loo or skiing down the side of Ben Nevis your website belongs back in the 90s with GIFs of flying toasters and squawking 56k modems! TCRM is your helping hand to get your website up to the standards that a 21st century consumer has come to expect. Don't delay call today!
But this isn't the only thought to have crossed my mind.  TCRM specialises in Search Engine Optimisation (SEO to those in the business) and have built many sites with great optimisation. I've seen dozens of other websites that place well in page rankings but I am almost always shocked at what lies behind the painted veil of google. Some truly terrible sites have climbed to the top of the rankings with effective use of SEO but still offer an awful experience to their customers with sub par products. It got me to thinking that a modern website needs many, many things to succeed these days but all above these it needs to provide a quality product at the right price, I suppose this is the core of any business. You can dress up a business with all manner of clever marketing and jazzy promotion but at the core of every business is its product. They say that if you can't polish a t**d you can roll it in glitter but at the end all the customer receives is some shiny crap. Perhaps I should present that theory to the Bridgend Business Forum?
So I look forward to the challenges and changes that this year brings. TCRM have got a hot barrel of websites waiting to be tipped all over the internet and we can't wait to see what fascinating and diverse businesses contact us this year to help them get their online presence off to a flying start.
Best of luck in the new year and thanks for reading.
TCRM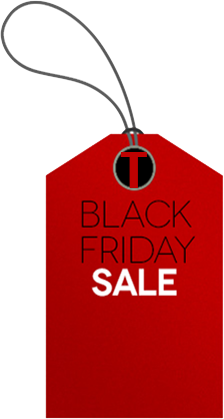 News November 2014
I hope everyone reading this has now recovered from the madness of Black Friday! I don't know about you but I was shocked at how quickly this American tradition has taken over in the UK. Reports on the news of people fighting and almost rioting to get a couple of quid off consumer electronics, madness in my opinion and the truth is that the savings are normally on fairly shoddy products and the savings only really amount to $50 or $60. But the question is then for us, the small to medium enterprise, how do we counter such aggressive tactics? We need to be clever, all of us, by making sure that when our potential customers are searching for products that our websites are the ones that come up at the top of searches. TCRM are here to help you in your battle against the huge national retailers by making sure that the searches you want  to hit give you the results that you expect.
TCRM are well aware of the way in which the massive search engines work, we produce all our websites in XHTML 1.1 which is well optimised to take advantage of modern search algorithms. Making sure that a website fits well into Google's and Bing's expectations is now of key importance in the web design community as over 80% of searches in 2013 were completed in Google or Bing. Obviously these are the search engines of choice for the public.
Not only this, we need to be sure that our websites are optimised for tablet and phone browsing as this method of browsing is fast overtaking traditional desktop internet consumption. TCRM are at the forefront of this technology making the customer's experience completely seamless between these different technologies. The internet has become the modern battlefield for the acquisition of new customers and you, me and all small enterprises need to make sure that we have the right weapons to go to war with. We at TCRM know what the modern consumer wants from a contemporary website and are striving at every moment to make sure that we stay ahead of the curve and provide the features and utilities that customers want but our competitors can't provide.
You can't afford to fall behind in this ever more competitive market. The first thing a prospective customer or client will do when they hear your name is try to find your website. Without good search engine optimisation that is all but impossible. Once the customer does find your website you need to ensure that their experience across all platforms is seamless. TCRM can make sure that both of these goals are realised so that you can boast a website that is as professional looking as the big high street brands. This will reassure your customers that you are more than just an alternative, you are a competitor. If you are looking at your current website and thinking that it doesn't quite look up to par, make sure you give us a ring for a quote today and watch the hits to your website soar into the stratosphere.
TCRM provide Pontycymmer, Pontypool and Pontypridd Web Design. If you are from the
Transantarctic Mountains
region, sorry we cannot help as Andrea hates the cold otherwise no problem,
contact
us for that great web site