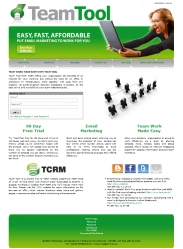 TeamTool is currently available free to TCRM website customers (conditions apply). TCRM does all it can to help small and medium sized businesses to become a success. Purchase a website from TCRM and we'll include Team Tool for free. Please visit the TCRM website for more information on the services on offer, which include brochure sites, news and gallery pages, e-commerce sites and social networking enhancements.
TeamTool from TCRM offers your organisation the benefits of an intranet for your workers, but without the need for an office or expensive IT infrastructure. Work together with ease from any location. No synchronisation between databases is needed. All the data is live and available to your team instantaneously.
Allow your company, organisation or group to work effectively as a team by sharing contacts, news, notices, tasks and status updates. There is also an internal messaging system for passing information between team members.
A shared contact system
Share and assign tasks within the team
Team news and notices
A team messaging system
Current member status
Try TeamTool free for 90 days and if you're not happy just walk away. We don't want your money unless you're extremely happy with the product. It's a full access trial period so there are no special restrictions on the number of contacts you can store, emails you can send or the number of team members you can have.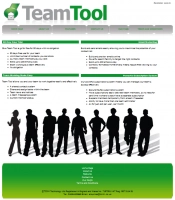 Give Team Tool a go for free for 90 days with no obligation
90 days free use for your team
Unlimited number of contacts you can store
As many team members as you want
Send up to 200 emails a day
Start working as a team effectively
No obligation
Build and send emails easily allowing you to maximise the potential of your contact list. Our online email builder allows users with little or no HTML knowledge to build professional looking emails and use the powerful search features to target their efforts effectively.
Build and preview emails online
Powerful search facility to target the right contacts
Send up to 200 emails a day
Correctly formatted MIME emails means hassle free viewing by your contacts
Our powerful subscription system means you can manage your team's access effectively
Secure PayPal subscription system
Move subscriptions easily between team members, so no need for part time workers to each have a separate subscription
Suspend members temporarily from a team if neeeded
Ability to have more than one team administer
All for just £10 per user, per month