News June 2015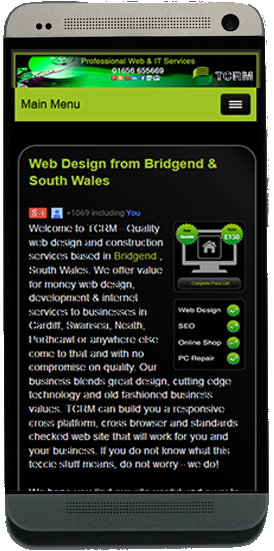 We are sure everyone is being inundated with sales calls, stating the world is ending if your web site is not mobile/tablet friendly and if you give them loads of money they will fix it.
However, there are a few things to think about before acting. Just for a change we'll look at some of the reasons not to change.
Your web site may already pass most of the tests google like. If you don't know, ask us and we'll check for you.
If your demographic does not use mobile/smartphones is there a need? We have one or two customers that this may apply to.
If you are thinking of an upgrade/redesign of your site, why not roll it all up together?
You do not like making money that much and you have far too much business anyway.
Ok, we are being a little tongue in cheek but they are a few reasons why not to upgrade. If anyone but google had the formula that google uses to position your site they would be as rich as google itself, so on the whole these phone calls are plain marketing calls trying to panic you into spending money but they are not necessarily wrong.
However, let us look at the other side of the coin!
There are many reasons for having a mobile/tablet friendly site and let us look at them and see if it affects your business:
1.    Mobile/ Tablet usage is going through the roof, well over 50% of browsing now happens on mobile devices, so many of your customers might not be seeing your products well presented.
2.    Positive user experience on your web site is essential, if your site is not mobile friendly it is like having a shop with the lights off for over half your customers, clearly a very bad business decision.
3.    Responsive design  (which is the most popular way of achieving mobile/tablet friendly web sites) has SEO advantages, so your google position can be affected by how good your mobile setup is. How much it affects your site is not well known but it certainly does have an effect.
4.    You could use your new mobile friendly site in you advertising, run a promotion saying your site is now mobile friendly, this will stimulate traffic which is what you want!
Web sites age, if your web site is more than a few years old it may very well need a refresh so what are you waiting for. Give us a ring and let's talk.
Have a great month
TCRM provide Pontycymmer, Pontypool and Pontypridd Web Design. If you are from the